Experience the Fun and Magic of a Player-Piano system!
Player Pianos are perfect for dinner parties, entertaining, and holidays. They create a self-playing piano that is a work of art you will enjoy for many years. Fill your home with elegant music with a system by QRS Music Or PianoDisc. Texas Piano Restoration has been trained directly by QRS and Pianodisc to perform factory quality installations. Additionally, co-owner Jon Welch combines his 15 years of experience in the Audio Video industry with his passion for player pianos. As a result, he has become a leading expert in player installations.
We install the QRS PNOmation 3, the latest in player technology as well the Pianodisc Prodigy system.
Curious about what songs are available in the player system? Check out the expanded roster of artists available in The QRS Music Library.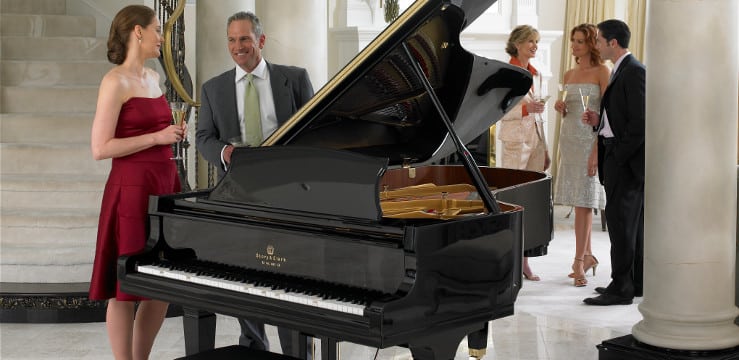 How do Player Pianos Work?
Player Pianos have a fascinating history that dates back to the late 1800's. These must have seemed like technological marvels back then and indeed they were. They operated with bellows and paper rolls. Originally operated with foot pedals the system would suck air through a system of bellow and through a perforated tracker bar. The paper roll would slide over the tracker bar and when a hole would appear in the paper air would be sent through a tube to a pneumatic device that would play the key. Instead of pushing down on the key in the front and player piano pushes up on the key from underneath the back.
A modern player piano system works much differently but the main idea is still the same. They now use an electro-magnetic device called a solenoid to play the keys. Some of these early systems used tape decks, floppy drives and other media to playback music. This older solenoid systems had large units that were attached to the bottom of the piano and were sort of an eyesore. Luckily we don't have that proble anymore as the new systems that we install (Both QRS and Pianodisc) are app based systems that you can control from a smart phone or tablet. They both have huge libraries of music as well that have greatly expanded the possiblities for entertaining with a player piano.
We are certified Installers of QRS Music Technology